The 2019 IMSA World Masters Championship kicked off in the afternoon of May 14 in Hengshui. This championship includes 5 sports (bridge, chess, draughts, go and Xiangqi) and 17 disciplines in total, gathering 170 players from 49 countries, including 32 chess top players from 14 countries.
There are four disciplines in chess section: rapid and blitz games for men and women.
In rapid games, each player will have 15 minutes plus 10 seconds per move starting from move one for the whole game. In blitz games, each player will have 3 minutes plus 2 seconds per move, starting from move one for the whole game.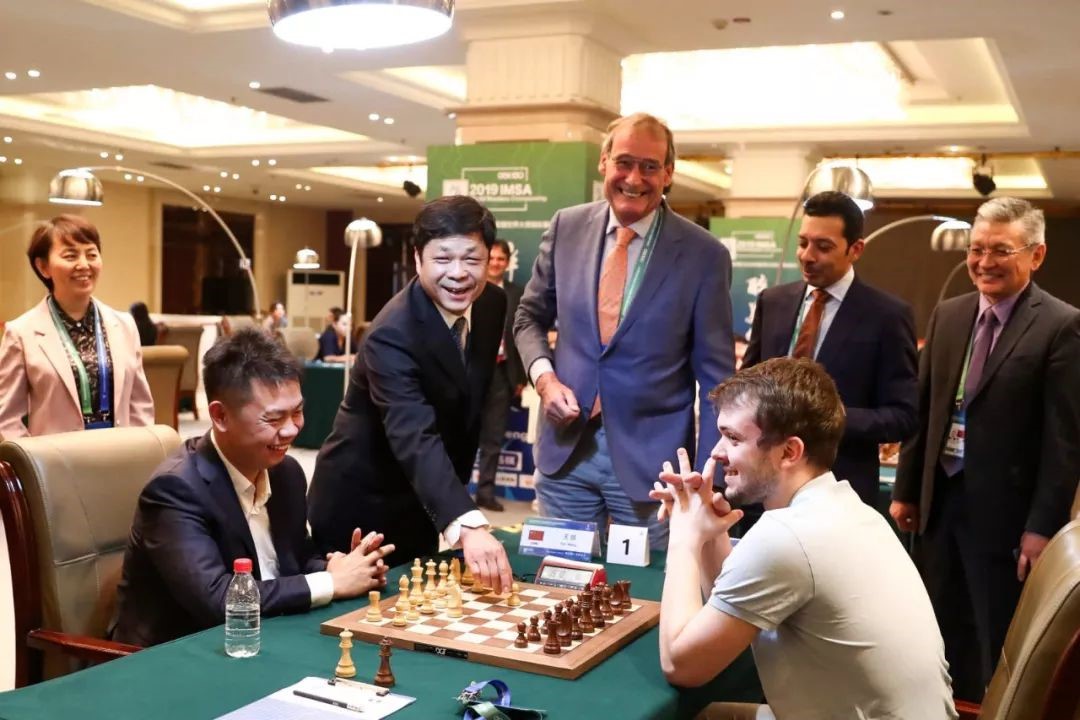 Mr. Zhu Guoping made ceremonial first move for Wang Hao and Fedoseev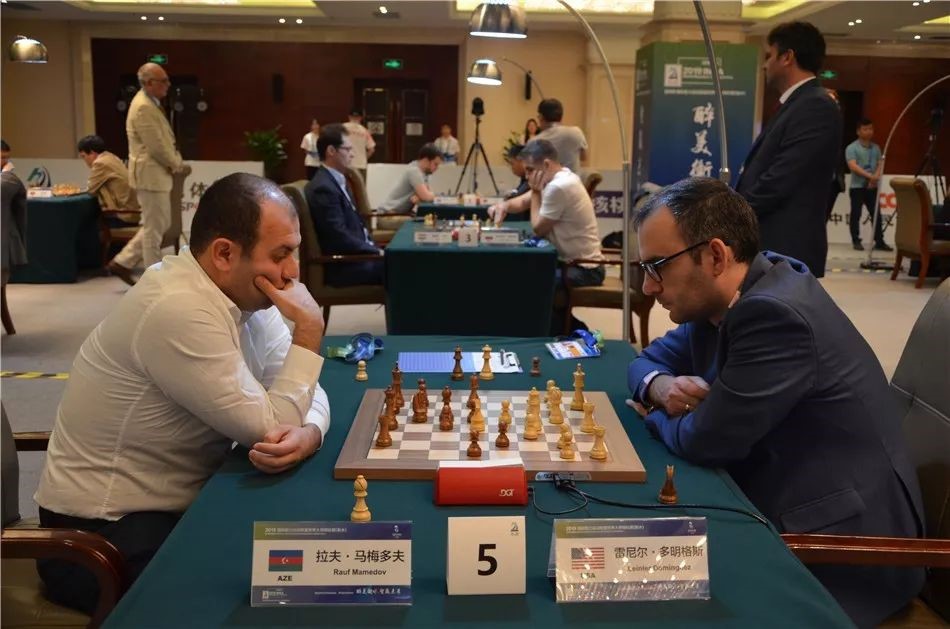 On May 14, four rounds of rapid games played. In men's section, Leinier Dominguez from USA and Vladimir Fedoseev from Russia tied for the leading position with 3 points out of 4 games by 2 wins and 2 draws.
Dominguez beat Rauf Mamedov and Boris Gelfand in the first 2 rounds and drew Vladimir Fedoseev and Ivan Cheparinov in round 3and 4. While Fedoseev defeated Bu Xiangzhi and Vidit Santosh with white inround 2 and 4, and drew with Wang Hao and Dominguez with black in round 1 and 3.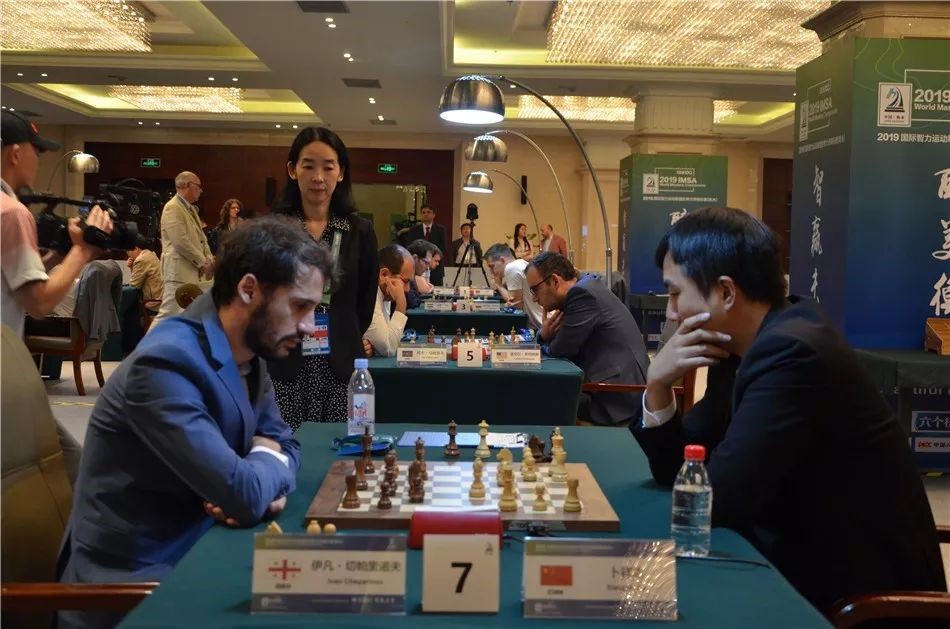 Besides the top 2 players, Ivan Cheparinov, Anton Korobov, Le Quang Liem, Dmitry Andreikin and Ruslan Ponomariov all scored 2.5 points to stay behind.
In women's section, 4 players scoring 3 points are in the leading group, including former world champion Maria Muzychuk from Ukraine, Valentina Gunina from Russia, Nana Dzagnidze from Georgia and Zhansaya Abdumalik from Kazakhstan.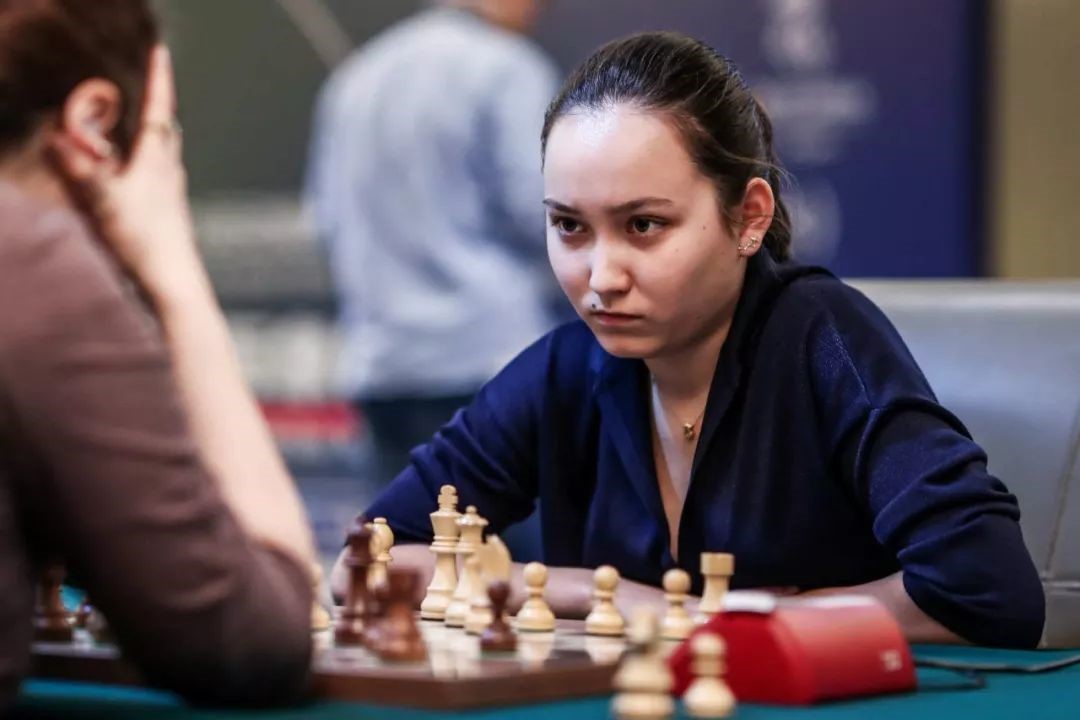 Maria Muzychuk and Abdumalik are undefeated with 2 wins and 2 draws, while Gunina and Dzagnidze has 3 wins and 1 loss respectively.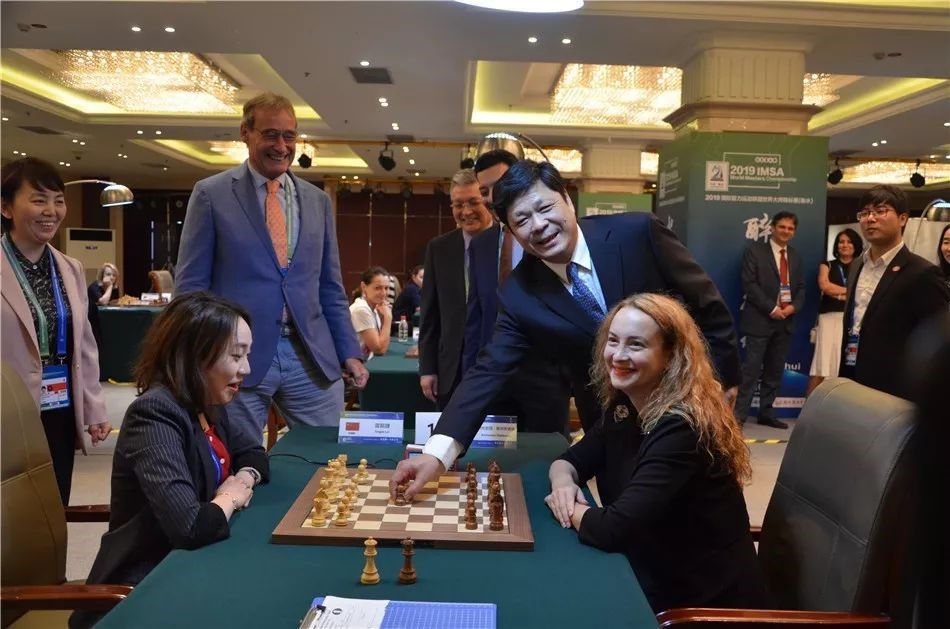 Trailing the leading group with half point is another former world champion Antoaneta Stefanova from Bulgaria.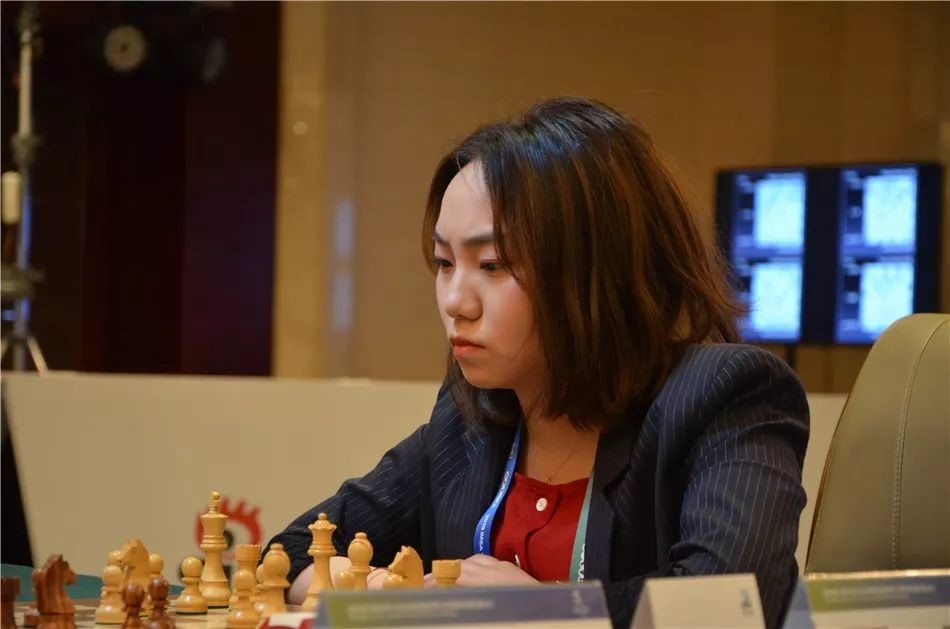 Top-seeded player Lei Tingjie from China got 2 points in the first 4 games. Her compatriot Zhao Xue also got 2 points. Former world champion Tan Zhongyi is 1.5 points.
| | | | | | | | |
| --- | --- | --- | --- | --- | --- | --- | --- |
| Rank | Num. | Name | Fed. | Pts. | | | |
| 1 | 5 | Dominguez Perez Leinier | USA | 3 | 0,5 | 7,5 | 2876 |
| 2 | 9 | Fedoseev Vladimir | RUS | 3 | 0,5 | 6,5 | 2926 |
| 3 | 15 | Cheparinov Ivan | GEO | 2,5 | 0 | 7 | 2852 |
| 4 | 4 | Korobov Anton | UKR | 2,5 | 0 | 7 | 2804 |
| 5 | 10 | Le Quang Liem | VIE | 2,5 | 0 | 6 | 2835 |
| 6 | 3 | Andreikin Dmitry | RUS | 2,5 | 0 | 6 | 2792 |
| 7 | 12 | Ponomariov Ruslan | UKR | 2,5 | 0 | 5,5 | 2832 |
| 8 | 8 | Gelfand Boris | ISR | 2 | 0 | 8 | 2710 |
| 9 | 14 | Vidit Santosh Gujrathi | IND | 2 | 0 | 7 | 2749 |
| 10 | 2 | Yu Yangyi | CHN | 1,5 | 0 | 7,5 | 2615 |
| 11 | 7 | Bu Xiangzhi | CHN | 1,5 | 0 | 7 | 2615 |
| 12 | 13 | Mamedov Rauf | AZE | 1,5 | 0 | 7 | 2608 |
| 13 | 6 | Rapport Richard | HUN | 1,5 | 0 | 7 | 2595 |
| 14 | 11 | Leko Peter | HUN | 1,5 | 0 | 6 | 2634 |
| 15 | 1 | Wang Hao | CHN | 1 | 0 | 7 | 2500 |
| 16 | 16 | Jones Gawain C B | ENG | 1 | 0 | 5 | 2514 |
| | | | | | | | |
| --- | --- | --- | --- | --- | --- | --- | --- |
| Rank | Num. | Name | Fed. | Pts. | | | |
| 1 | 2 | Muzychuk Mariya | UKR | 3 | 0 | 8 | 2681 |
| 2 | 4 | Gunina Valentina | RUS | 3 | 0 | 8 | 2673 |
| 3 | 7 | Dzagnidze Nana | GEO | 3 | 0 | 7,5 | 2652 |
| 4 | 5 | Abdumalik Zhansaya | KAZ | 3 | 0 | 6,5 | 2667 |
| 5 | 9 | Stefanova Antoaneta | BUL | 2,5 | 0 | 7 | 2577 |
| 6 | 8 | Koneru Humpy | IND | 2 | 0 | 8 | 2467 |
| 7 | 10 | Ushenina Anna | UKR | 2 | 0 | 7,5 | 2481 |
| 8 | 1 | Lei Tingjie | CHN | 2 | 0 | 7,5 | 2462 |
| 9 | 3 | Kosteniuk Alexandra | RUS | 2 | 0 | 7 | 2471 |
| 10 | 15 | Zhao Xue | CHN | 2 | 0 | 5,5 | 2434 |
| 11 | 11 | Harika Dronavalli | IND | 2 | 0 | 4,5 | 2440 |
| 12 | 6 | Tan Zhongyi | CHN | 1,5 | 0 | 7,5 | 2379 |
| 13 | 12 | Bodnaruk Anastasia | RUS | 1,5 | 0 | 7 | 2383 |
| 14 | 13 | Krush Irina | USA | 1 | 0,5 | 6 | 2247 |
| 15 | 14 | Paehtz Elisabeth | GER | 1 | 0,5 | 5,5 | 2250 |
| 16 | 16 | Khotenashvili Bela | GEO | 0,5 | 0 | 6 | 2118 |